There aren't many summer afternoons with blue skies above Mount Evans, the 14,265-foot peak west of Denver that features the highest paved road in North America. Today was one of those days. Carpe diem.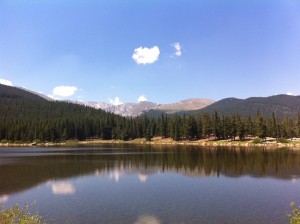 I had planned to bike from Idaho Springs, 7,555 feet, up to Summit lake, 12,830 feet, and then turn around after 23 miles or so. I'm training for the 47th annual Bob Cook Memorial Hill Climb on July 21 and a 1,000-mile bikepacking trip along the Great Divide later this summer.
When I got to Summit Lake and saw clear skies above Evans, I decided to go for it. I had the wind at my back the first mile or two, which was a total blessing, and once I was within a few miles of reaching the top, I felt a surge of energy and there was no going back. The very end of this ride is brutal–a series of sometimes steep switchbacks that snake up the last 1,000 feet or so of elevation. It's almost always windy up there, but today was relatively tame and when I got to the parking lot at the summit there were tons of motorists walking around in short-sleeve shirts.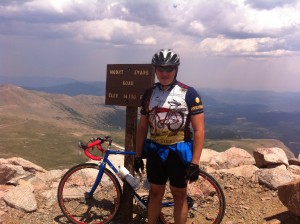 I snapped a few photos, gobbled a Cliff Bar, and then bundled up in a jacket and leg warmers for the 28-mile downhill.  I knew this benign weather wouldn't last long.
The descent from Evans is one helluva ride and karmic retribution after you've busted your ass to climb the 14er. From the top down to Summit Lake, the road is in pretty rough shape. There are some nasty potholes, frost heaves, and cracks in the asphalt that limit your speed, as do the switchbacks. But things get smoother on the second half of the trip back to Idaho Springs and the good folks at the state highway department have just paved some sections that are a joy to ride. I peaked at 43 mph, a few clicks short of the maximum on last week's ride, but it still felt like being on a motorcycle, or so I would imagine.
This was only the second time I've ridden all the way to the top and I felt much better today than during last year's ride. Then again, my time of just under 4 hours is more than double the unbelievable course record of 1 hour and 41 minutes, achieved in 2004 by professional cyclist Tom Danielson, who also holds the record for New Hampshire's Mount Washington. Jeannie Longo, the 13-time world champion, holds the women's record at 1 hour and 59 minutes.
I'm not about to set any records, but I was surprised how strong I felt toward the top of the ride, especially because the first 7 miles coming out of Idaho Springs were into a pretty stiff headwind.
I think I did a good job with keeping myself fueled and hydrated, starting with an enormous breakfast of eggs, french toast, and bacon at the Sunrise Cafe, a greasy spoon near home where I sometimes gorge before heading into the mountains.
On the climb, I always stop for some goodies at the Echo Lake Lodge, halfway to the top, and while I was crestfallen today to find the caramel smores already gone, some dark chocolate with sea salt and a cashew grizzly provided a nice sugar high, as did the four packets of GU energy gel that I inhaled along the way.
Another positive was that I kept my heart rate under control. My goal was to keep my ticker below 150 beats per minute so I wouldn't burn out too early and I did a decent job with that. As you can see in the graphic below, I was in the low 150s a fair amount, especially at the very top, but I never got above 160. Once my heart rate gets above 155 or so, my legs and lungs start burning as my asthma kicks in and my performance plummets. Don't get me wrong: I'm pretty tired now and I'll be feeling this ride tomorrow. But I'm glad I pushed myself without blowing up and I'm now even more excited to tackle this same climb three weeks from now. Fittingly, when I got home to Denver this afternoon, my race packet and jersey had arrived in the mail.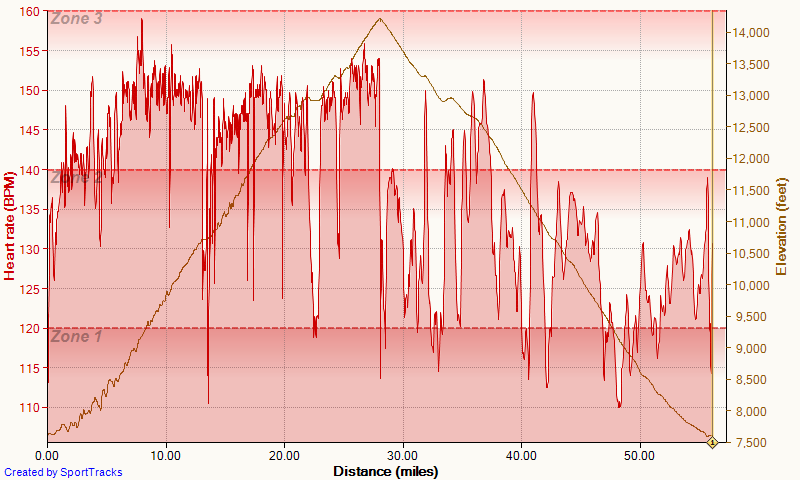 ---
Mitch Tobin is an author, multimedia journalist, and FAA-certified drone pilot based in Durango, Colorado.