I've reached a watershed moment in my life, so it's high time for me to mountain bike the Continental Divide. In late July, I'll hop in the saddle and pedal off on a 1,000-mile, solo journey along the spine of North America. Starting in Southern Wyoming, I'll head south through the Colorado Rockies and wind up in Northern New Mexico a month later.
I'll be bikepacking: a hybrid of mountain biking and backpacking that entails hauling my gear behind me in a one-wheeled trailer. Along the way, I'll be filing online updates, posting photos, and sharing other observations through this website and social media. In this inaugural post, I explain where, how, and why I'll be making this trek.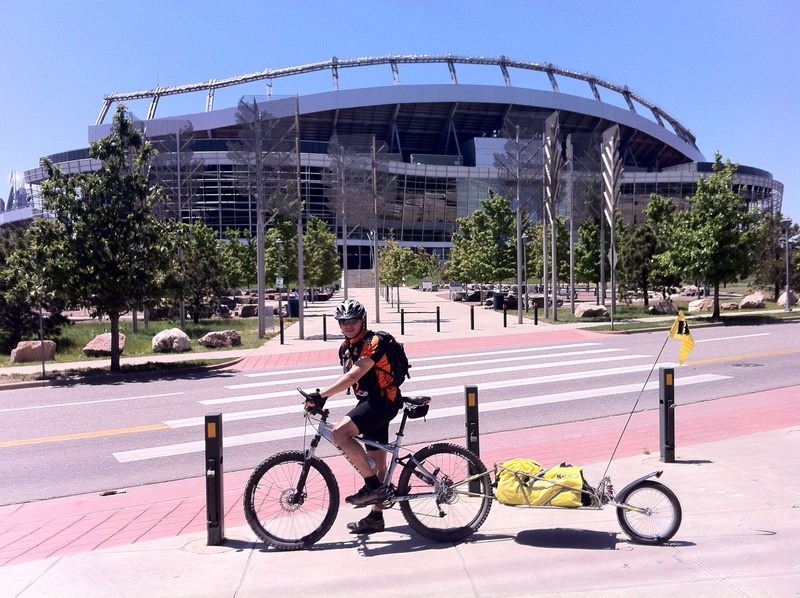 Where?
You're probably familiar with the Continental Divide, the imaginary line that separates watersheds draining to the Atlantic Ocean from those draining to the Pacific. There's a hiking path called the Continental Divide National Scenic Trail that follows this line for 3,100 miles, from Canada to Mexico, but that path is just too steep and rugged to mountain bike, especially with all my gear.
Instead, I'll be following the Great Divide Mountain Bike Route, which stretches more than 2,700 miles, from Banff in the Canadian Rockies, to Antelope Wells, New Mexico, on the border with Old Mexico. Billed as the world's longest mountain biking trail, the Great Divide was mapped by the Adventure Cycling Association, which has developed a variety of cross-country and long-distance routes for bicycle touring. About 90 percent of the Great Divide route is on dirt and gravel roads, most of them passing through public lands managed by the U.S. Forest Service and Bureau of Land Management. The rest is on paved roads, but the route passes by tons of single-track trails that I plan to explore—after unhitching my trailer.The section of the Great Divide I'll be biking.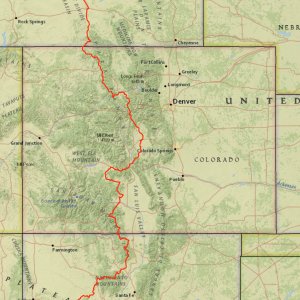 How?
My wife Ginette, who deserves sainthood for letting me pursue this adventure, will drop me off in Wyoming, then pick me up a month later in New Mexico. She'll join me for a portion of the trip, but mostly I'll be alone. My plan is to bike an average of 35 miles a day, camp out most nights, and check in to an occasional motel to get civilized. Such opportunities to shower and sleep on a mattress will be few and far between. The biggest towns I'll pass through are Steamboat Springs, Frisco, and Breckenridge, Colorado. At times I'll be dozens of miles from the nearest food, water, supplies, and cell-phone signal, but I'll have a satellite messenger on hand in case of emergency. The segment I'll be biking is the highest portion of the Great Divide route and will rarely dip below 8,000 feet elevation. I'll cross back and forth over the Continental Divide several times, topping out at 11,910 feet elevation on Indiana Pass in Southern Colorado. On the toughest climbs, I'll be lucky to average 5 mph.
Why?
Bicycling, backpacking, exploring, and photographing the American West—these are my passions, so it's hard to resist the chance to combine them all in one trip. First and foremost, this is a summer vacation and about having fun! But that's not the only reason I'm embarking on this three-wheeled odyssey. Some of the others:
1)    Racing against the clock. According to an online life expectancy calculator from the Wharton School of Business, I can expect to live about 80 years, so statistically speaking, I'm already over the hill. My asthma and arthritis are bound to worsen, making the journey that much harder. There's also another biological clock ticking: Ginette will turn 35 in August and our window for having a child is closing. I've managed to put off fatherhood for a while, but I do want that day to come. Once I'm a dad, doing a trip like this would be mighty tough—at least until my kid is ready to join me.
2)    Getting in shape. The daunting prospect of biking atop the roof of the continent has given me all the motivation I need to get my ass in gear. As part of my training, I'll be doing two major races on my road bike. On July 15, I'll ride in the Triple Bypass—a 120-mile route that includes 10,000 feet of climbing from Avon, west of Vail, to Evergreen, in the Front Range foothills near Denver. On July 21, I'll set off at dawn from Idaho Springs, elevation 7,555 feet, and start the 28-mile ascent to the top of Mount Evans, elevation 14,264 feet.
3)    Warding off burnout. I have an unhealthy tendency to overwork and spend way too much time in front of a computer screen. On this trip, I won't be going totally dark: I'll be bringing an iPhone and iPad. But a solid month away from Microsoft Outlook, PowerPoint slides, conference calls, and the other trappings of the business world is what I need to recharge my batteries (a portable solar panel will recharge my gadgets).
4)    Journaling to return to journalism. The implosion of the American newspaper industry forced me to abandon my reporting career in 2006. I don't pine for the days of covering 8-hour public hearings, but I do miss the guts of journalism: documenting the world around me and making sense of it by telling stories. For an environmental journalist, the Divide has plenty of news hooks because it's the West's backbone. This is where most of the region's precious water supply originates. It's where rugged topography and brutal weather have discouraged—but certainly not stopped—overexploitation by people. And it's where plants and animals will be retreating in coming decades as global warming forces species to seek higher, cooler climes.
5)     Listening to mom's advice. Watching my mom suffer and die from ovarian cancer was the worst experience of my life and I'm not sure there were any redeeming aspects to her death nearly three years ago. But if there were a benefit, it's that I no longer take my good health for granted and I'm now acutely aware of my own mortality. Those awful images of my mom, emaciated and in pain, still haunt me, and they always will, but in a weird way they're also a source of inspiration. "Mitchell," she told me toward the end, "you can do anything as long as you have your health." From her deathbed, my mom gave me one simple piece of advice about how to lead my life: "Just be happy." Easier said than done, but that's the plan for this trip.
Staying connected
If you'd like to track my journey and my preparations, I'll be sharing posts and photos through this site and broadcasting from the backcountry through my Facebook page and Twitter account. You can also subscribe to my RSS feed or opt-in for occasional email updates.
I hope you'll join me, at least virtually, on what promises to be a wild ride!
---
Mitch Tobin is an author, multimedia journalist, and FAA-certified drone pilot based in Durango, Colorado.