One thing I love about fall in Colorado is the changing of the aspen leaves.
On my way back from the San Juan Mountains, I stopped at one of our favorite camping spots with hopes of capturing some drone footage of the fall foliage.
During our previous visits over the summer, I noted that the hillsides across from our campsite had an abundance of aspen. I figured if I came back at the right time in autumn, the hills would be glowing.
The prediction held true and, by happenstance, I happened to be visiting when the aspen were peaking.
Here are some highlights of the aerial footage from my Vimeo page:
It was a windy morning, so I was worried that my footage would be too shaky. But even my 3-year-old drone is able to compensate and smooth out the ride.
I focused on shooting video, but I also took a few photos and extracted some stills in post-production. Here's a gallery of the images:
The sky was clear, so the sun striking the aspen produced a super-bright yellow reflection. I think it overwhelmed the camera, which had trouble balancing that explosion of light against the dark shadows between the trees, but I was able to correct for some of that in my editing.
Last year, I went on a similar mission closer to home. On Guanella Pass, near Georgetown, I used my drone to film the leaves changing on the hillsides. On that day, the leaves were even more colorful, but it was a tougher location for flying because the valley was narrow and the winds were stiff. Here are some highlights from Guanella Pass:
The Guanella Pass trip had the advantage of some leaves also turning orange, which nicely complemented the yellows and greens.
It can be hard to predict what the leaves will look like hours from home, but there are sites online that monitor the progression of the fall foliage.
My favorite is from smokymountains.com, which tracks leaves changing across the country. Here's an example of their maps: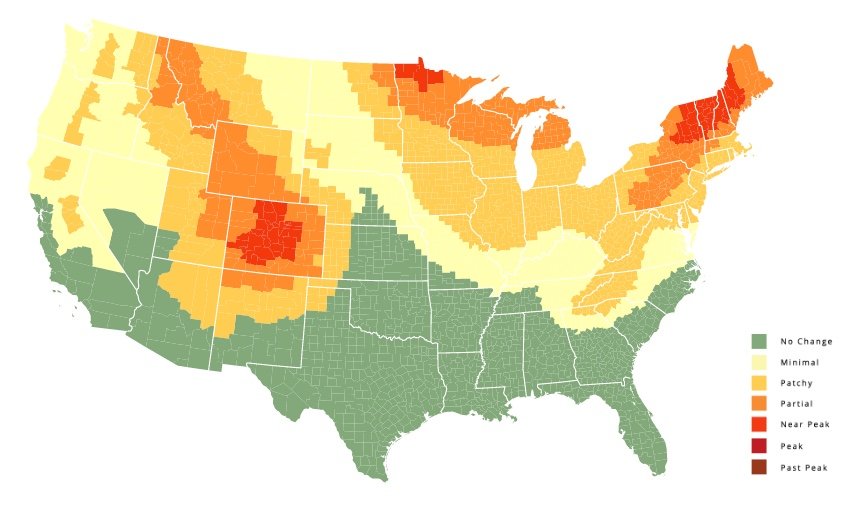 Aspen aren't native to my hometown of Denver, which lies several thousand feet lower in elevation than their natural range in the Rockies. But we have a bunch of aspen in our backyard and they grow like weeds.
In Denver, the aspen leaves typically change many weeks later than they do in Colorado's high country. When the big aspen tree right outside my office window turns yellow and orange, it injects a warm light into the room. That transition also reminds me to start doing more squats and lunges in anticipation of ski season!
It may be just a day or two after the peak when a windy day comes along and blows the leaves down into the yard. Like the summer wildflower season in Colorado, the changing of the aspen in autumn is a short but sweet display.