Over the past two months, Colorado has been slammed by three waves of warm, wet storms that dumped snow measured in feet across the state's northern and central mountains. These atmospheric rivers are nicknamed the Pineapple Express because they transport subtropical moisture from around Hawaii to the Western United States, as shown in this National Weather Service graphic: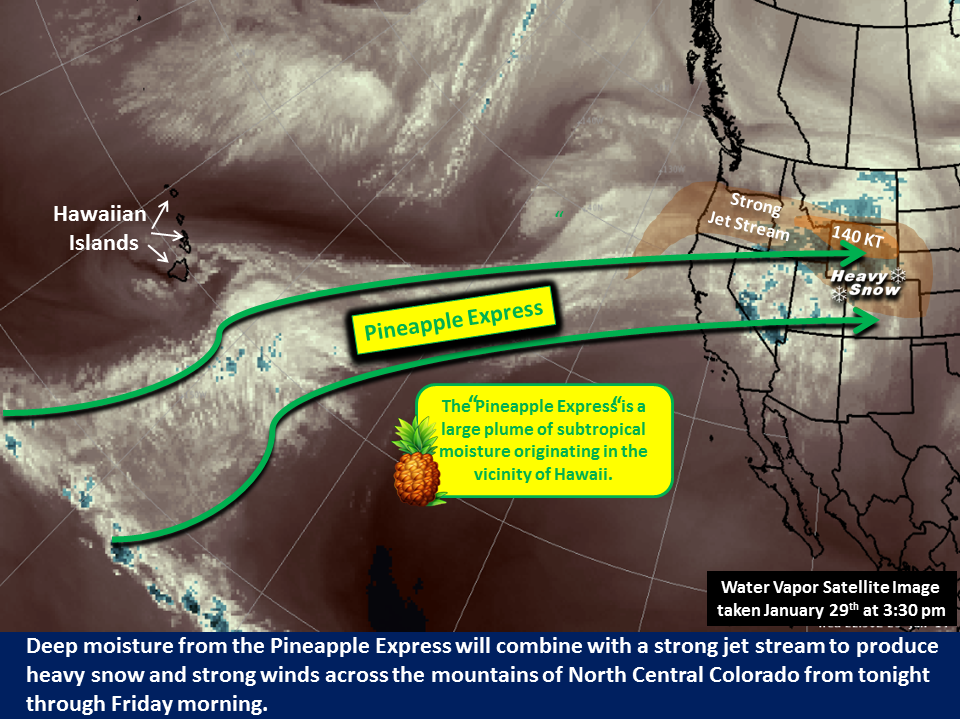 The animation below illustrates the last of the atmospheric river events. The map doesn't show what happens on land, but this depiction of water vapor gives you a sense of what's transpiring.
Good things happen, from my perspective, when the jet stream taps the Pacific Ocean and plows it into the Continental Divide. A couple of weeks ago, I skied at Monarch Mountain after 118 inches–nearly 10 feet–had fallen in the prior 14 days.
Here's a video I filmed during my day at Monarch, where I've been able to ski for free this year in abundance thanks to the perks of annual passes at Loveland and Copper/Winter Park.
The atmospheric rivers haven't been enough to overcome California's epic drought. In Colorado, the San Juan Mountains have been bypassed by some of this moisture. But most of Colorado's ski areas are enjoying one of their best seasons in years.
Here's a video I shot with my buddy Forrest at Loveland Ski Area, which includes some of my best impressions of farm animals during the walk under the I-70 tunnel.
I had fun with these two videos, but there's no story, so I decided to create a clip with some narration and a narrative. The video below, filmed at Copper and Winter Park, includes cameos by friends Pat and Diane.
I flexed some new video muscles with this last piece, though it did require a fair bit of time to record and time the narration. My goal was to create a 90-second video with about 30 clips averaging 3 seconds each.
In addition to skiing/snowboarding as much as I can before becoming a father, I'm trying to improve my video skills (see more clips here). I've found the only way to do all of this while maintaining a full-time job is to combine the alpine exploits with the filming. It's the editing that takes forever, and it's not nearly as fun as pushing the start button on the GoPro camera and then carving turns down the mountain.
---
Mitch Tobin is an author, multimedia journalist, and FAA-certified drone pilot based in Durango, Colorado.