Just before sunset, I reached the Flat Tops, a series of isolated buttes in the remote Burr Desert of Southeast Utah.
I drove around on the dusty dirt roads for a while, searching for someplace to get out of the wind that was still howling. At one point, I had to cross some tiny sand dunes that had spilled across the road and that had my tires spinning for a bit.
I found a tiny pass between two buttes that looked scenic, so I opted to bed down there for the night.
But that scenic topography actually served to channel and intensify the wind, so putting up the tent alone was a real challenge, as in the tent's fabric was flapping and buzzing like some Tibetan prayer flags in Everest's base camp!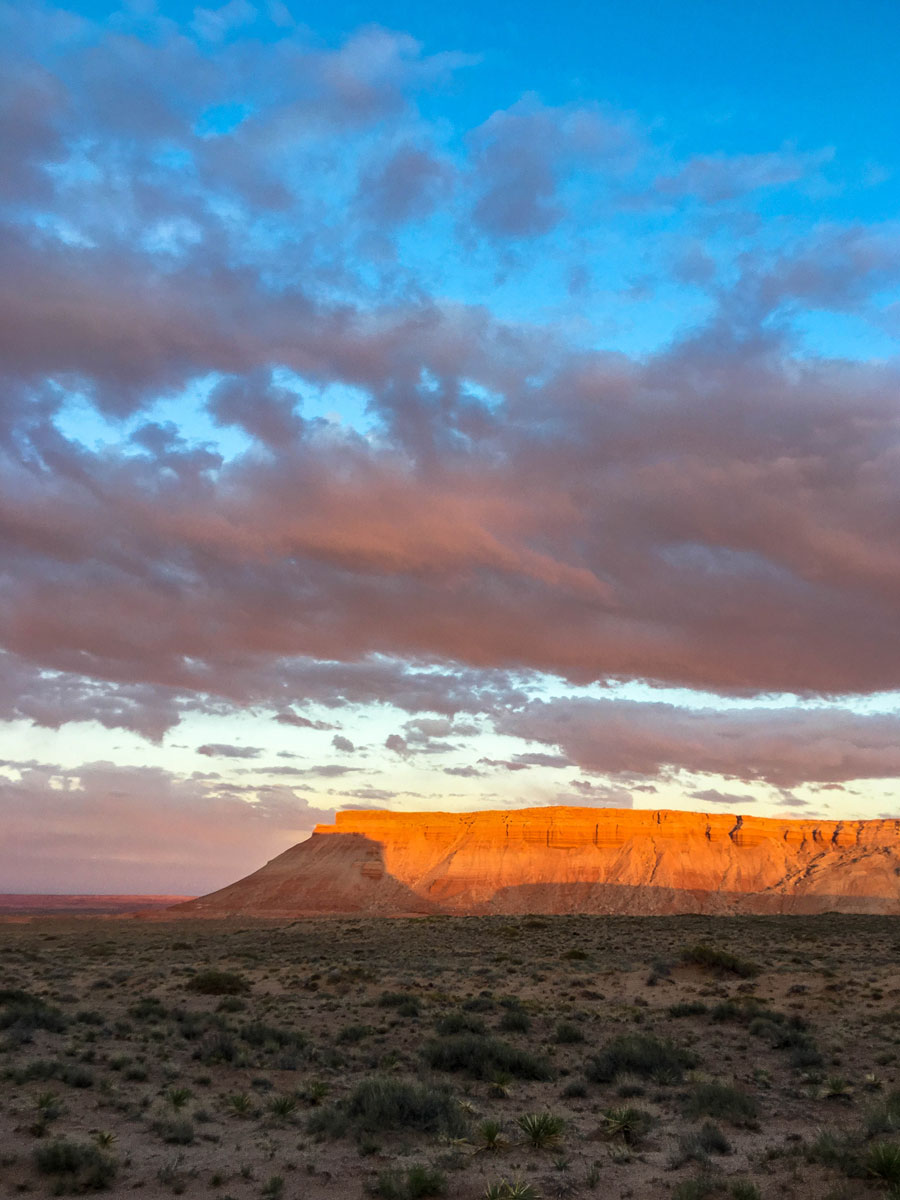 As if on cue, the winds died down right at 8 p.m., exactly when the National Weather Service's high-wind advisory expired.
The night remained partly cloudy and a little breezy, so it wasn't ideal for astrophotography. That wind had kicked up a lot of dust that was now suspended between me and the stars. Nevertheless, I snapped a few photos like the one below before crashing for the night.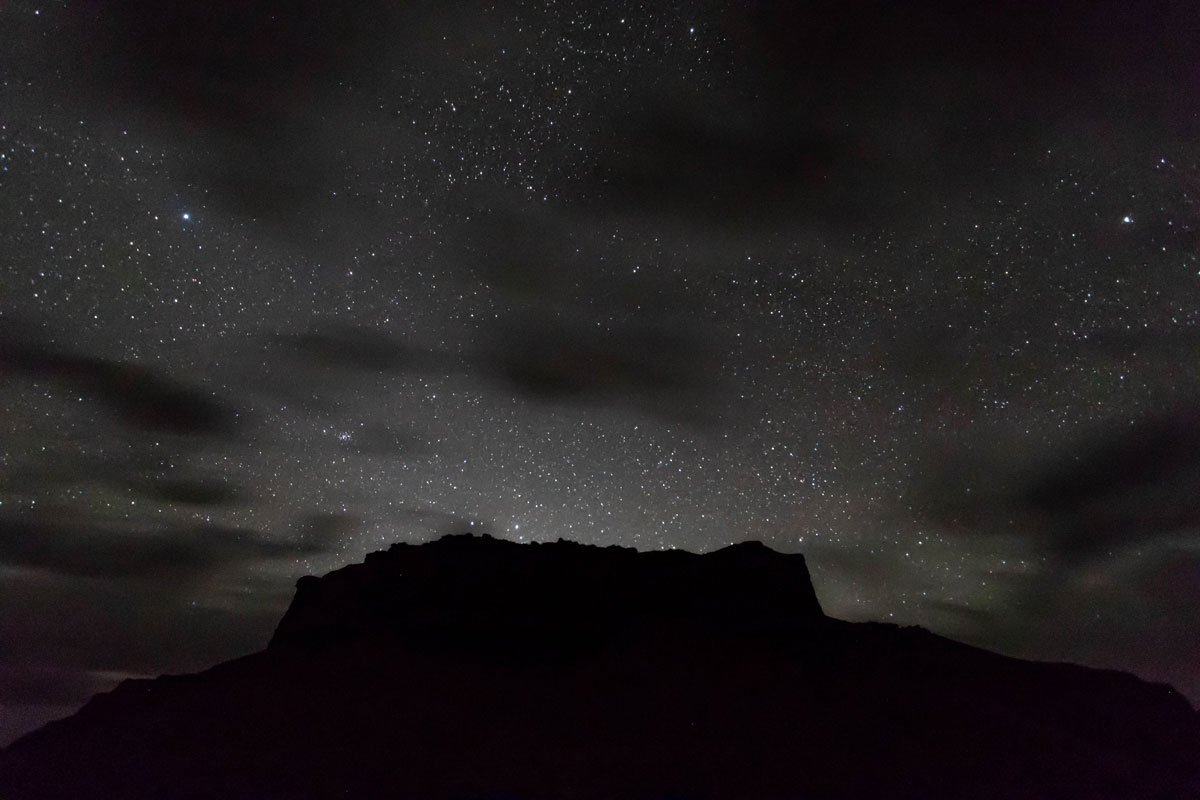 I'd driven the entire day from Denver and had already spent a few hours hiking around Goblin Valley State Park, so I slept like a log.
The next morning dawned clear and windless. It had been chilly at night, but as soon as the sun hit my tent, it turned my sleeping bag into a sauna.
Little Flat Top drone flights
I was excited the wind was no more and it was great weather for flying my drone around the Little Flat Top butte that I had camped beside.
As a side hustle, I sell my drone footage (and other stock video) through a variety of websites, including Adobe Stock and Pond5, so one of the goals of this road trip was to collect some new raw material. Here's a sample of the footage I shot of Little Flat Top:
It was a fun, easy place to fly: no worries about wind, trees, radio interference, other aircraft, or any obstructions other than the big ass butte standing in front of me.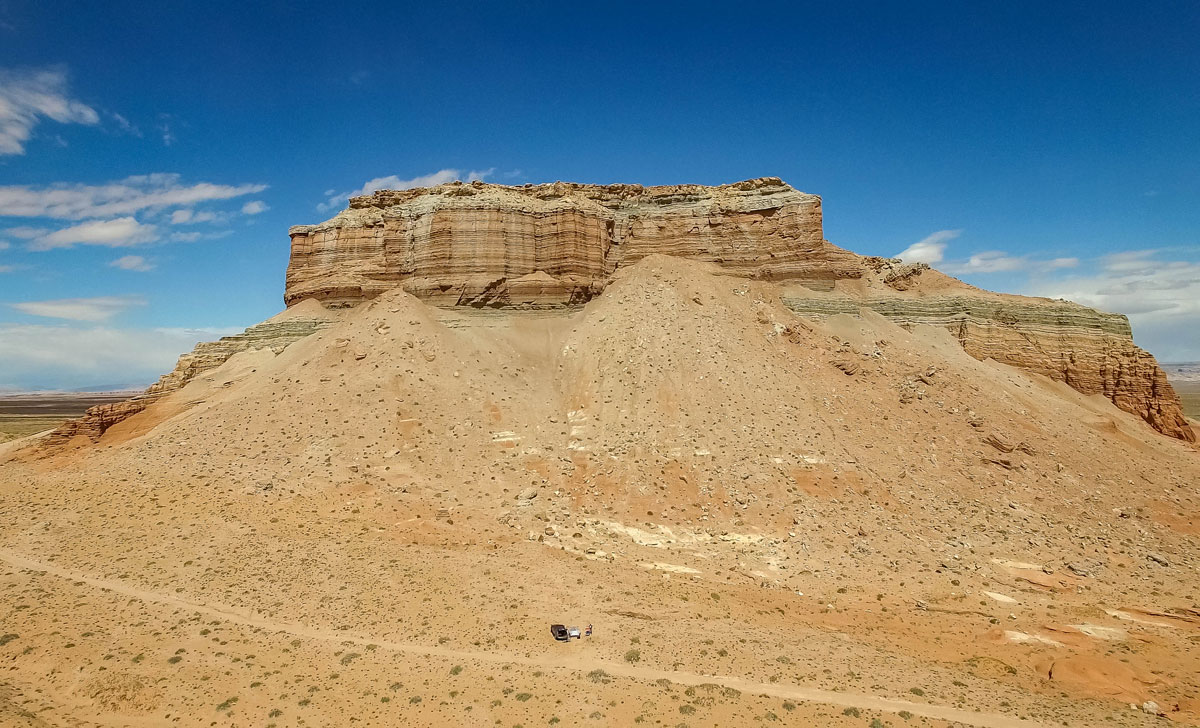 The bird's-eye view of a drone has upped my appreciation for the power—and beauty—of erosion. You get a novel view of the impact of gravity, water, wind, and other forces when you're looking down on a landscape.
I can only go 400 feet above the ground with my drone, due to FAA regulations. From a commercial airliner, you gain similarly insightful vantage points on the forces at work over vast geographies and time scales.
As with my previous stop, Goblin Valley State Park, I would've been happy to spend even more time at Little Flat Top, but I was excited to head off to my next destination, an overlook beside the Dirty Devil River . . .
This post is part of a series on my May 2018 trip to Southeast Utah. Check out the rest:
---
Mitch Tobin is an author, multimedia journalist, and FAA-certified drone pilot based in Durango, Colorado.