We welcomed a beautiful baby girl, Camille Olive Tobin, into the world on May 10, less than an hour before the start of Mother's Day.
The two weeks since have been super-busy as we care for this precious newborn, so I haven't had time to post anything about the birth or our first days as parents, but so far we're all doing great.
Labor came on quickly on a Saturday evening as a major snowstorm started to pound Colorado. Things seemed to be moving swiftly toward a routine delivery . . . until the baby's heartbeat began to falter and the the doctor decided to perform a C-section. It turned out the umbilical cord had been wrapped around Camille's leg like a Roman sandal.
The urgent C-section was terrifying, beautiful, painful, fascinating, messy, exhilarating, traumatic, awesome. It's something I'd like to write about more. I recorded the whole thing with my GoPro camera, so I'm also working on a video piece about the beginning of parenthood.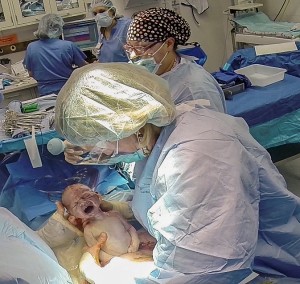 As soon as Ginette went into labor, I started shooting a ton of still photos as well. As expected, Camille's arrival is impelling me to document this pivotal moment in our lives, in part for her benefit when she's older, but also to share the experience with family and friends.
Nearly all of the photos I took in the hospital were captured on my iPhone. During the labor and C-section, I wore a GoPro video camera on my head. This turned out to be a great set-up because it freed both of my hands. I was able to shoot photos with the iPhone, caress Ginette's head during the operation, and push Camille in her crib through the hospital corridors without having to fumble with the video camera.
Filming the birth was important to me, but I didn't want it to become a distraction or disruption. Psychologically, I found it helpful to have something to do with all the nervous energy in my body. As a seemingly normal delivery became an unplanned C-section, the personal photojournalism became a sort of coping mechanism. It felt as if I was back to being a reporter, charged with adrenaline and with the task of capturing as much detail as possible during a breaking news event. In this case, however, my main job responsibility was to support Ginette without getting in the way of the doctors and nurses.
Decades from now, if Camille is ever giving birth, her partner may be recording the whole thing through eyeglasses or a mini camera embedded in an earlobe. In 2014, the GoPro proved ideal for the assignment. Sans plastic case, it's small enough to fit in the pocket of your jeans. The wide-angle lens, which is great for filming skiing and mountain biking, was perfect for capturing the close action of the birth and aftermath. Blurring the line between video and photo, I've gone through the footage from the GoPro and created still images, such as the one below, about a minute after Camille was pulled from the womb.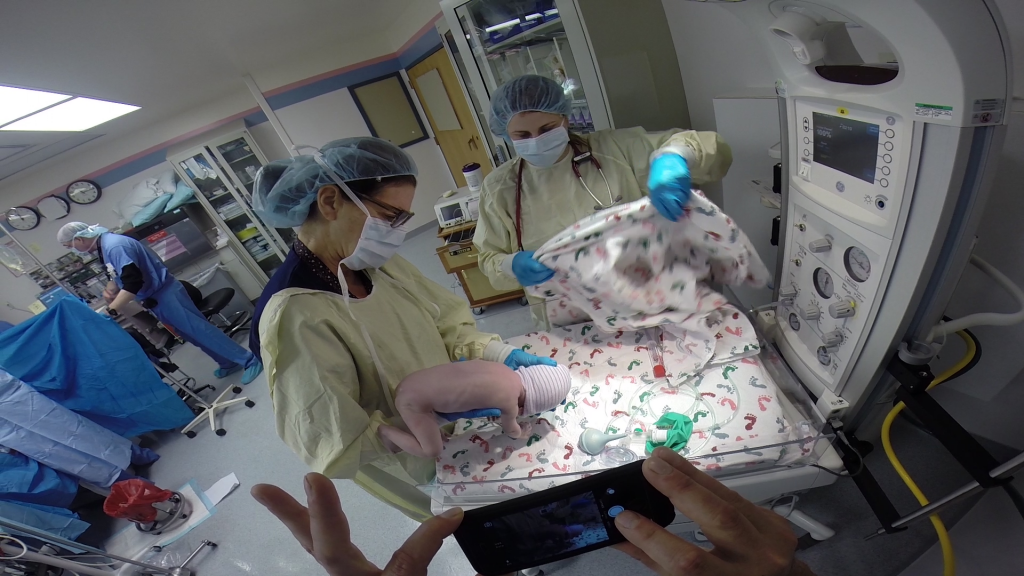 Five or ten years ago, I would have been taking notes about the birth on a reporter's pad, scribbling indecipherable chicken scratch and thinking way faster than my fingers could move. Words are still important to me. After Camille's birth, I tapped away on my laptop, trying to capture thoughts, memories, and emotions before they were lost to time. In order for me to process this momentous and somewhat traumatic event, I will need to write about it. But I'm so glad I kept the video rolling and fired off so many photos while we were at the hospital. No matter how much I write, or how well I can recollect the episode and emotions in words, without capturing those still and moving images, the experience would have felt incomplete.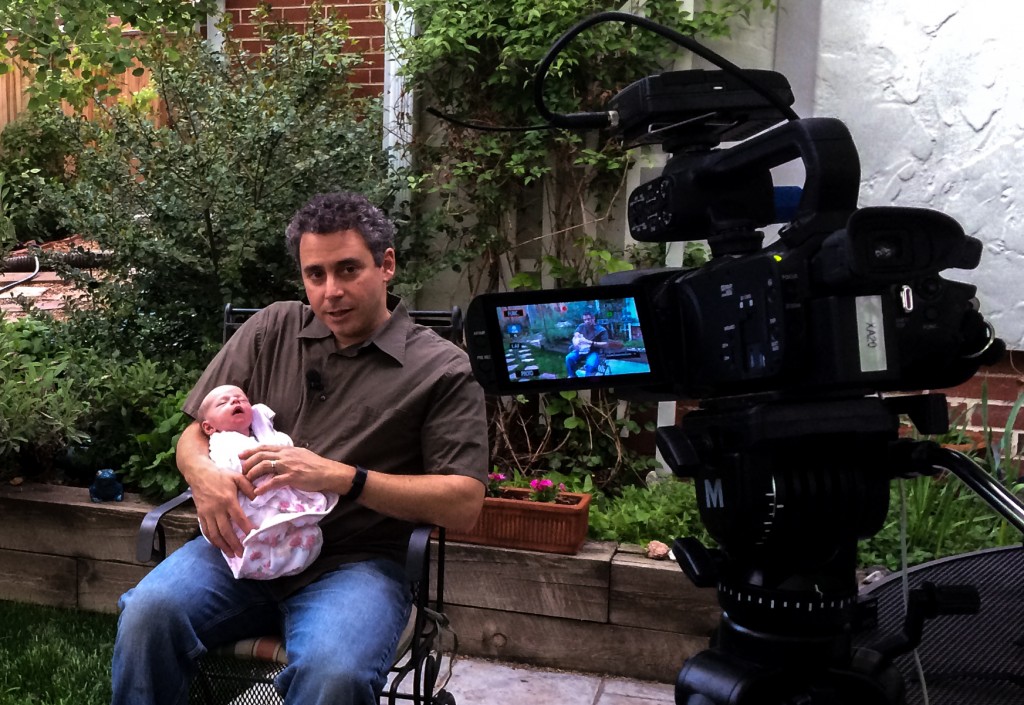 ---
Mitch Tobin is an author, multimedia journalist, and FAA-certified drone pilot based in Durango, Colorado.