In the fall of 1960, a few weeks before the November 8 presidential election, John F. Kennedy came to Brooklyn's Kings Highway for a campaign rally at Dubrow's Cafeteria, the restaurant chain started in 1929 by my great-grandfather, Benjamin Dubrow. Kennedy, locked in a tight race with Richard Nixon, was seeking to energize the base in a Democratic stronghold.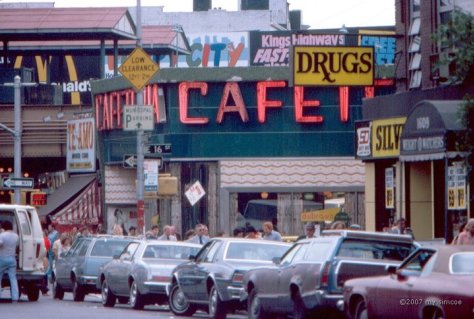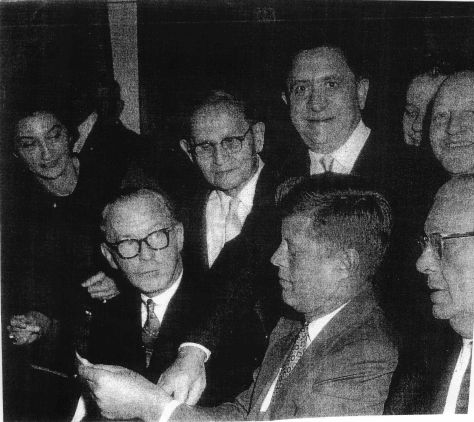 "I was the go-between," he said. "It was about two weeks before the election and Kennedy came on a Thursday night."
O'Brien, who would later serve as NBA commissioner, was the advance man. He had a critical mission: ensure Dubrow's had something his boss liked to eat. The only problem was that Dubrow's was a working-class, Jewish-style cafeteria, and JFK was a Roman Catholic blue blood from New England.
"He loved shrimp cocktail, but we didn't make shrimp cocktail at our place, so we sent someone to Lundy's world-famous seafood house in Sheepshead Bay," my dad said. "He also wanted lobster bisque. We weren't kosher, but that wasn't one of our soups."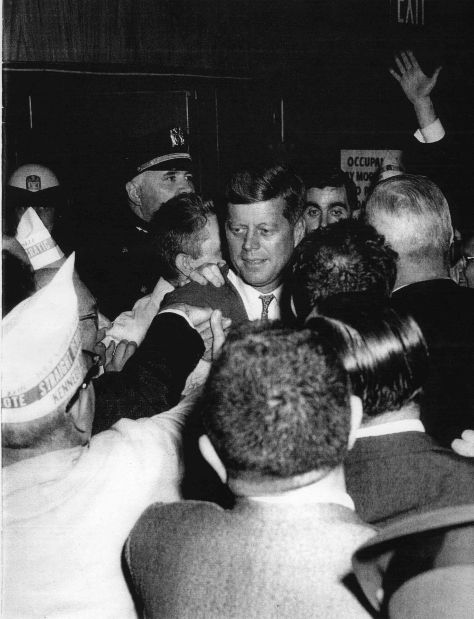 What my dad does remember is leading JFK to the toilet in Dubrow's, with Secret Service in tow.
"I was in the men's room with him," he said.
Four decades later, I wound up leading another presidential candidate to the bathroom. I was a reporter at the Arizona Daily Star in Tucson, and one day while walking across the newsroom, I looked up to see Arizona Senator John McCain striding toward me. "Which way to the men's room?" asked McCain, who was there for an editorial board meeting. I shook his hand, pointed him in the right direction, and he was gone. I've always regretted not walking with him, spending a few more seconds with a historic figure, but he seemed to be in a hurry. Maybe he really had to go.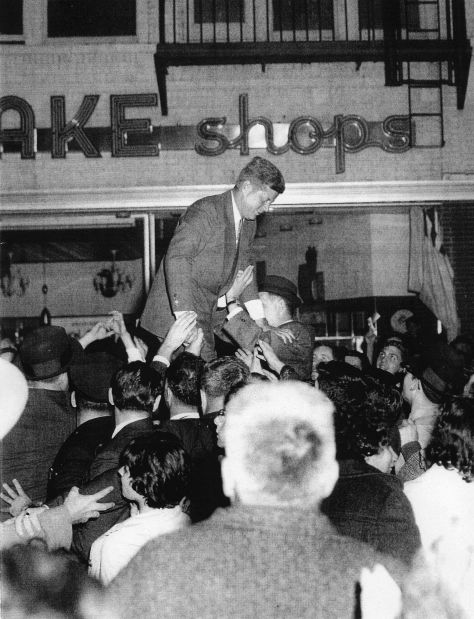 I haven't found any press accounts of the 1960 event at the Kings Highway Dubrow's, so I'm not sure how many people attended, but my dad said "the crowd was so huge that after it dispersed, there were three or four or five bushels of shoes lost in the avalanche of people coming through." It must have been some stampede.
These photos of the event, posted by Eve Lyons, another great-grandchild of Benjamin Dubrow, show Kennedy mixing with the crowd in an intimate manner you wouldn't see today, at least not without having passed through metal detectors.
The Wikipedia entry on Brooklyn's Midwood neighborhoodprovides some background on Dubrow's and the Kennedy rally:
In the 1950s, 1960s, and 1970s, Kings Highway had Dubrow's Cafeteria, a classic cafeteria where holes would be punched in patrons' printed tickets, which would total the cost of the meal. It was a popular place to eat and schmooze . . . In his run for the White House, Democratic presidential candidate John F. Kennedy held a massive campaign rally just outside Dubrow's Cafeteria. A huge crowd of people turned out to hear this popular political icon speak, stretching for blocks in all directions. Years later his brother Senator Robert F. Kennedy ("Bobby") held a similar campaign rally there for his run for President, with a similarly large audience.
A few weeks after the 1960  Brooklyn rally, Kennedy narrowly defeated Richard Nixon. He carried New York 52% to 47% and won the national vote by just 0.17%.
The Dubrow's on Kings Highway closed in the late 1970s, but another Dubrow's in Manhattan stayed open until 1985. On October 30, 1980, President Jimmy Carter held a campaign event in front of the Manhattan restaurant, located on Seventh Avenue in the Garment District, another stronghold for unions and Democrats.
Carter ate at the Manhattan Dubrow's the day of his rally. Like JFK, the peanut farmer from Georgia wasn't quite kosher.
"He ate a corned beef sandwich with mayonnaise," my dad told me.
---
Mitch Tobin is an author, multimedia journalist, and FAA-certified drone pilot based in Durango, Colorado.